Home page
16 August 2020
Dear Film Club Members and Friends,
After considerable deliberations by the Film Club Committee, it has been unanimously agreed to further suspend our film showings at North Curry Village Hall. As you know we had hoped to re-start films at the end of September but the virus situation isn't improving as quickly as we had hoped. Additionally, we have calculated that safe social distancing would mean we can only have a maximum of 24 watching films and this would mean running at a loss given the cost of film licenses etc. As announced on August 8th, we would also have to require our audience to wear masks.
So we have reluctantly decided to plan to re-start on March 24th. We hope that by then the expected 'winter spike' will be over and we may have a vaccine. Members who paid for this year's season are owed for the six films we haven't shown and so they will be credited once we are able to re-start.
Hoping you are keeping well. Best wishes,
Don Hoyle (on behalf of the Committee)
Films are shown at North Curry Village Hall, Greenway on the fourth Wednesday of the month. Plus a winter warmer run on some Saturdays.
Doors open 7.00pm, film starts 7.30pm prompt.

All welcome, either by means of an annual membership or by paying at the door after 7.15pm (see How to join).
There is a licensed bar.
We show children's films occasionally. Here the Hardwick children are getting ready to enjoy Paddington 2.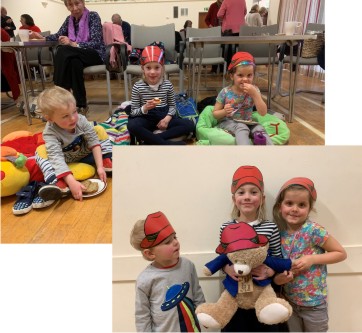 We are an Associate member of the British Federation of Film Societies.

In addition to wine and soft drinks we sell local apple juice from Transition Athelney on film nights in the village hall.